Finally the real reason why I've got this blog; to post pics of my f**king awesome hauls. I recently received a package from my favorite e-
tailer
The Right

Stuf

International
which contained
The Melancholy of

Haruhi

Suzumiya
volume two Limited Edition and
Ghost in the Shell: Stand Alone Complex: Solid State Society
Limited Edition. I also bought the exclusive edition of
Hellsing

: Ultimate Series
volume 2 at f.y.e. around the same time. I've yet to get around to opening any of them. I still have DVDs I bought beforehand that I've yet to get around to watching.
My Haruhi Suzumiya collection so far. I bought the standard edition of volume one and the limited edition of volume two. Long story. The second box features a lovely shot of Mikuru on the front and artwork on the back matches the landscape style art of volume one.
My Hellsing: Ultimate Series collection so far. Both were store exclusives; the first at Best Buy and the second at f.y.e. I'm not crazy about shopping at f.y.e but I figured I'd buy it now instead of paying more later. If you can't tell Jan Valentine is flipping the bird on the cover of volume two but a carefully placed sticker obscures it from innocent eyes.
My
steelbook
collection so far.
Steelbooks
are what DVD packaging would be like if they were forged by God himself.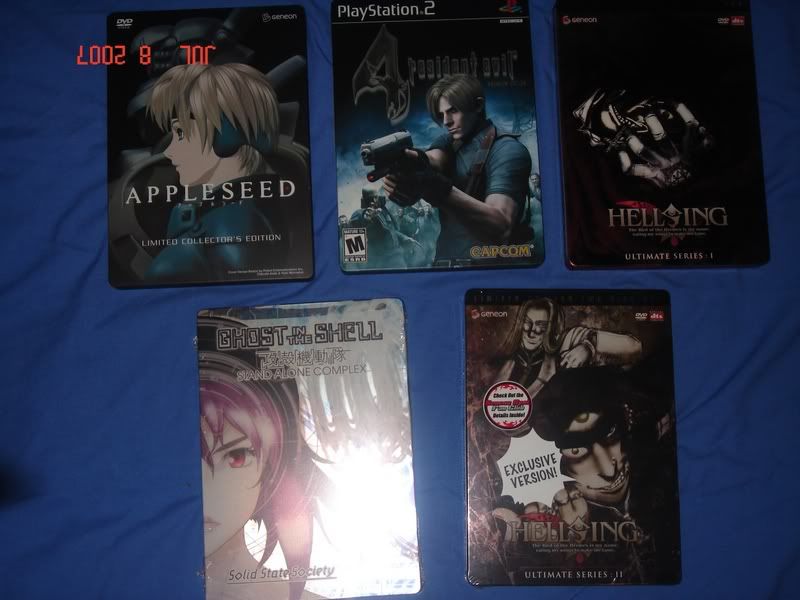 Well that's it for now. I'll try to post more detailed pics once get around to opening them. No promises though. I'm forgetful and lazy to boot.