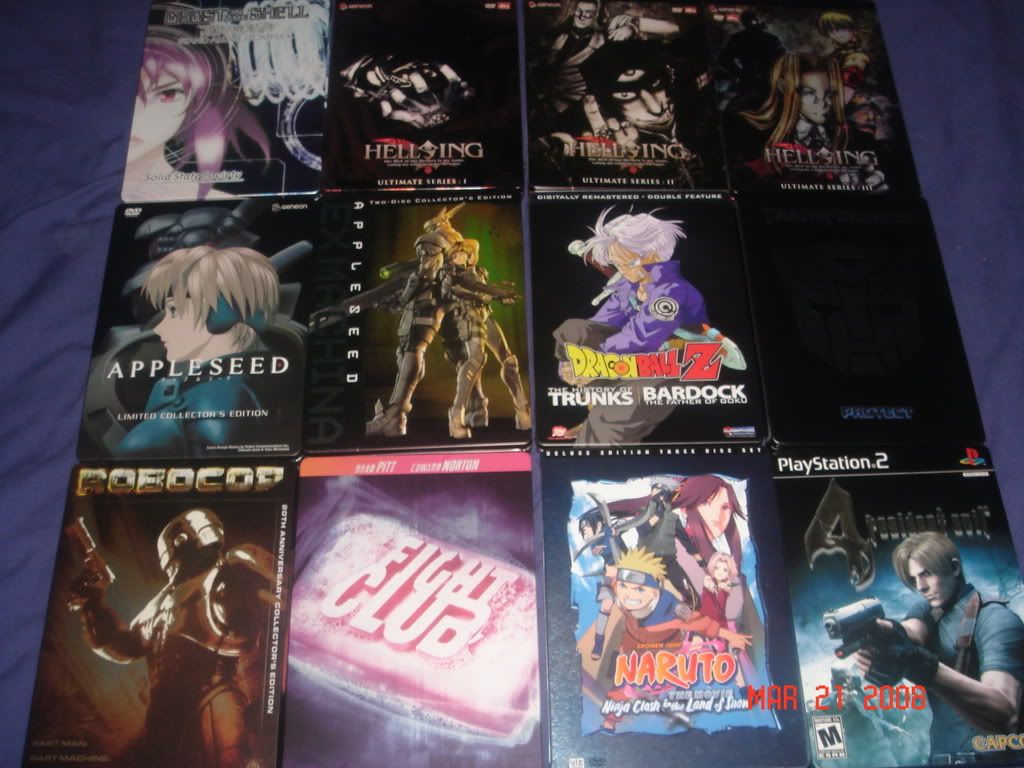 Well
as requested
, here is a picture of my current steelbook collection. As you can see shiny metal is not easy to photograph. The collection has grown quite a bit since the
last time I posted it
. For the uninitiated steelbooks are DVD cases that , according to
their website
,"consists of a metal exterior and an inner core of plastic and has the same dimensions as a standard DVD style case". I just love the way they're designed. They're nice and sturdy with a lot of cool artwork and unlike other types of special packaging they don't take up any more shelf space than a typical DVD case.
Here's a picture of a few of them opened. I removed the booklets and other inserts to give a better look at the artwork that can be found on the inside. Interestingly the
Naruto
movie is the only steelbook I own that lacks interior artwork, but that's not unheard of; the steelbook for
Dune
supposedly lacks interior artwork as well.
Naruto
makes up for it with by having a third disc, actually the movie's soundtrack on CD. So what does the future hold? Best Buy has an exclusive
I Am Legend
steelbook. right now. Canadian retailer Future shop even has a
I Am Legend
Blu-Ray steelbook
. Its amazing how much cool stuff is only made available north of the border. Transworld stores have pre-orders for upcoming
Sweeney Todd
and
Cloverfield
steelbooks, available on April 1st and 22nd respectively. Funimation is releasing the
DragonBall Z
movies in
widescreen
. The
DBZ
movies will be double features packaged in steelbooks.
The first
will be released on May 27th. I was disappointed the
DragonBall Z History of Trunks & Bardock
specials were cropped widescreen, but I'm glad to have experienced Funimation's grand "experiment" without having to plunk down the cash for one of the season sets. It's not unwatchable but it is distracting. I preordered it sight unseen and didn't know it was going to be cropped but I also wasn't expecting a steelbook. I like nice surprises. My favorite steelbook is still the
Resident Evil 4
PS2 game I received as an unexpected Christmas gift. It was only my second steelbook and the catalyst for my new sub-collection. The problem is the more steelbooks there are, the less special they seem and there are a lot of steelbooks nowadays. I always only buy the ones I like, the ones I would have bought irregardless of the packaging, but it's still a grueling addiction.