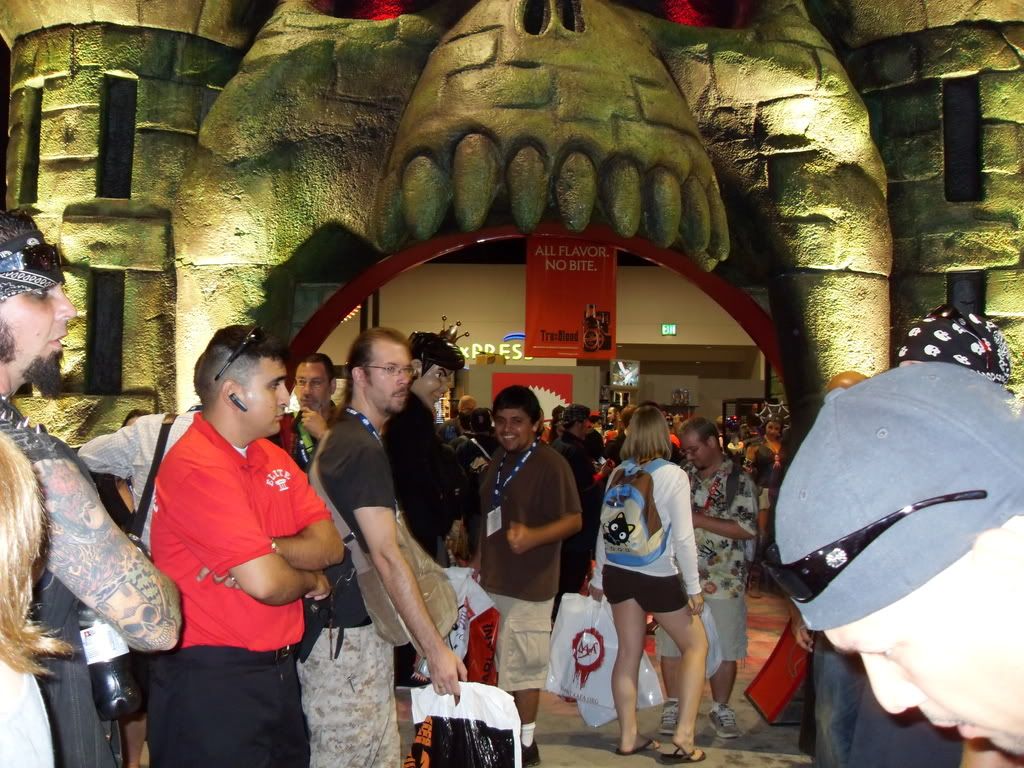 Yes, that's me in Castle Greyskull. So Comic-Con was awesome but it wasn't entirely smooth sailing. There was a
major accident
that backed traffic up for hours. We got there late, but the only significant negative impact for me was missing out on certain swag. If nothing else that shows you where my priorities lie. A weird side affect of attending Comic-Con? When I look at photos on the internet or coverage on TV I'm able to recognize certain locations. It feels really strange but for some reason I get a kick out of it. I didn't attend any panels but thanks to the internet I don't feel like I missed out on much. I've seen poor quality video of the footage for
X-Men Origins: Wolverine
and
Tron 2
(or
Tr2n
as they're calling it). I'd provide links but they're already long gone. I don't understand this policy to have convention footage removed from the web. It's going to be widely available anyways eventually. Is it to make the panel attendees feel extra special for seeing it in person, even if it's only for a brief time? The biggest disappointment of the con for me was the lack of any new
The Dark Knight
Movie Masters action figures. There is a Target exclusive Bat-Pod coming. At Mattel's panel they mentioned considering making Lucius Fox and Commissioner Gordon figures. I'm extremely skeptical about that. Also look
who's coming
in the five inch line. Speaking of action figures and potential movie spoilers, here's a
figure of Jason
from next year's Friday the 13th remake. I don't like it. The same company, Mezco, also has the license for the new
Wolf Man
movie but they kept that figure under wraps. People complain that as Comic Con has grown in popularity that it's lost its focus. This being my first Comic-Con, I can't really make a comparison. There was a sizeable video game presence which apparently is a recent development. I think this has something to do with the loss of the traditional E3. The gaming stuff does seem slightly more jarring than the movie, TV, and collectibles areas. Here are a few quotes from Comic-Con I found around the web:
At The Spirit panel
Samuel L. Jackson talks about owning the action figures based on his characters. "having fun with 'Afro-Samurai...They're all over, I catch Shaft staring at Mace Windu, Frozone flying around" Soon he can add The Octopus and eventually Nick Fury to his collection.
Kevin Smith explains to Zack Snyder
the purpose of Comic-Con. "Once it comes out they can stop doing this shit forever...The only reason there has ever been a San Diego Con is so that one day someone would make the Watchmen movie."