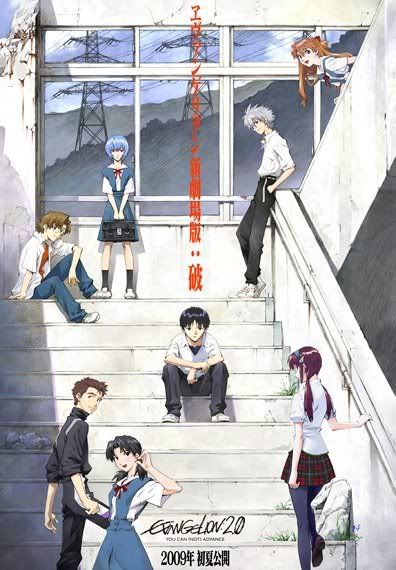 The
Japanese website
for
Neon Genesis Evangelion
has updated with new information on the next installment in their
Rebuild of Evangelion
series.
Evangelion 2.0 You Can (Not) Advance
will be released in theatres in Japan next summer. It's the sequel to
Evangelion 1.0 You Are (Not) Alone
which was released in September of last year. Clearly Gainax is no hurry to wrap things up. The website isn't of much use if you don't speak Japanese but it does provide us with the poster. It's similar to the first film's poster but it adds Asuka at the top and most interestingly, an all new character seen in the lower right-hand corner. Her face is obscured but she's a clear indication that
Rebuild of Evangelion
will be going in a new direction. BTW there's still no word of any of the new
Evangelion
movies being acquired for North American distribution. Considering the built-in fanbase these movies have, I'm assuming Gainax is asking for a hefty licensing fee.