The Dark Knight's
home video release date is two weeks from today and news of the various retailer exclusive editions are starting to emerge. T.W.E.C. stores including Suncoast and F.Y.E. will have an exclusive steelbook case. The steelbook will also be available at Future Shop in Canada.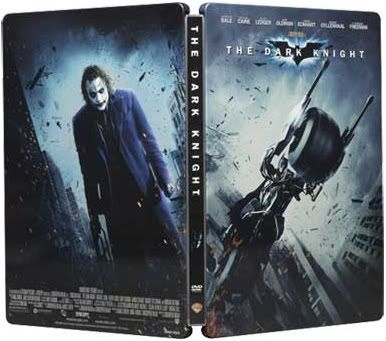 Future Shop will also have a Blu-Ray steebook. Like other Canadian Blu-Ray steelbooks (
I Am Legend
,
Iron Man
), don't expect to find this in at any U.S. retailers.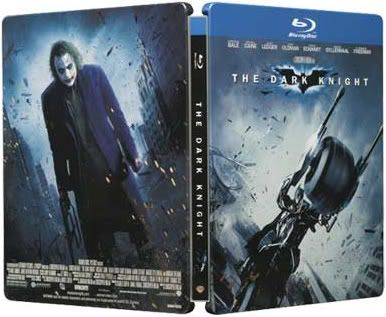 Walmart has had some neat exclusives lately for
Hellboy II
and
Hancock
. They're kitschy pack-ins or if you're feeling charitable you could call them prop replicas. Either way I think they're cool. Walmart continues this trend with their exclusive for
The Dark Knight
with Two-Face's coin. The set also comes with a comic book.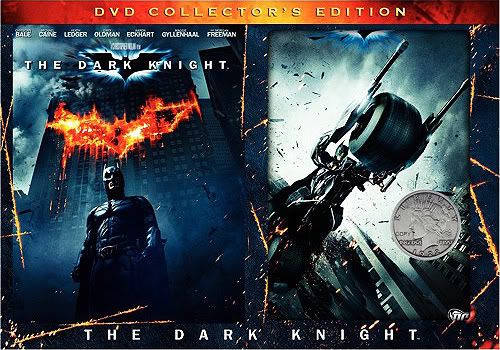 Best Buy is offering one of a choice of two
free posters with pre-orders
. In addition to this I'm willing to bet they'll also have this giftset listed at
Best Buy's Canadian website
. A DVD packaged with a minibust is certainly typical of Best Buy's exclusives.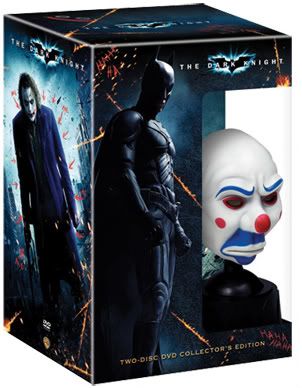 I'll update again when we find out more about other exclusives at other stores. In the meantime check out
DVDBeaver
's review of the Blu-ray disc complete with a number of Hi-Def screencaps.
Updated 11/29:
Here's a scan of the Best Buy ad for the week of the
The Dark Knight
's release. Not only will they have the clown mask mini-bust, they're also offering a Batman mask mini-bust. Plus you get a free Joker card with the purchase of any version of the movie. And there will be a pair of statuettes for ten dollars each. That's a lot of stuff.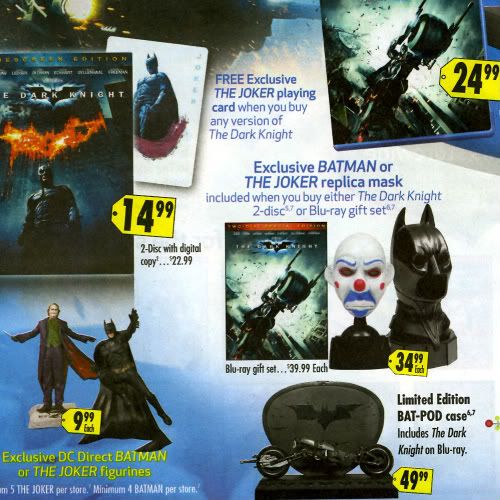 It's been confirmed that Target will have the DVD and Blu-Ray in collectible Batman mask packaging. No pics yet but presumably it will be the same as
the one the U.K. is getting
.
Circuit City
's exclsuive will include a journal and a unique cover. Seriously? Even Circuit City has an awesome exclusive?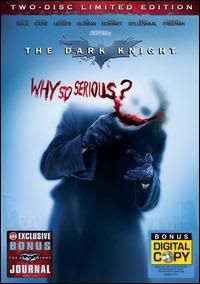 I can honestly say that, as of right now, I have no idea where I'll be shopping this December 9th. All of the exclusives have some merit in my eyes. Or to put it more bluntly, none of them suck. This will be my greatest DVD geek challenge yet.
Updated 11/30:
Here's a pic of the Target exclusive Blu-Ray case. The DVD version will likely be identical minus the blue stripe. Good lord, even the outer packaging looks sweet. [Slams head against the keyboard.]