I'm still recovering a bit from Comic Con and judging by how long it took me to write about AX, I should get to Comic Con by late August. Imagi had a booth promoting their upcoming CGI film based on Osamu Tezuka's classic
Astro Boy
. There were screens displaying images of the film. The only notable difference between the film's design and his classic appearance is that the film's Astro Boy lacks anime styled eyes and suffers for it. I tried to take a picture but the image on the screen didn't show up on camera. I did get a shot of this statue they had in their booth.
Bandai Entertainment had arguably the most impressive set-up in the exhibit hall. They projected an ongoing loop of their shows' opening sequences on a big screen. A couple of enthusiastic booth babes sang along with the lyrics of "Colors", the first opening song of
Code Geass
. It's an experience which will haunt me until the end of my days.
One booth was selling sword replicas. Everyone should recognize Link's Hylian sword and shield, but I'm much more interested in the sword on the right. It's Lion-Os Sword of Omens, resting on a stand with the
Thundercats
symbol.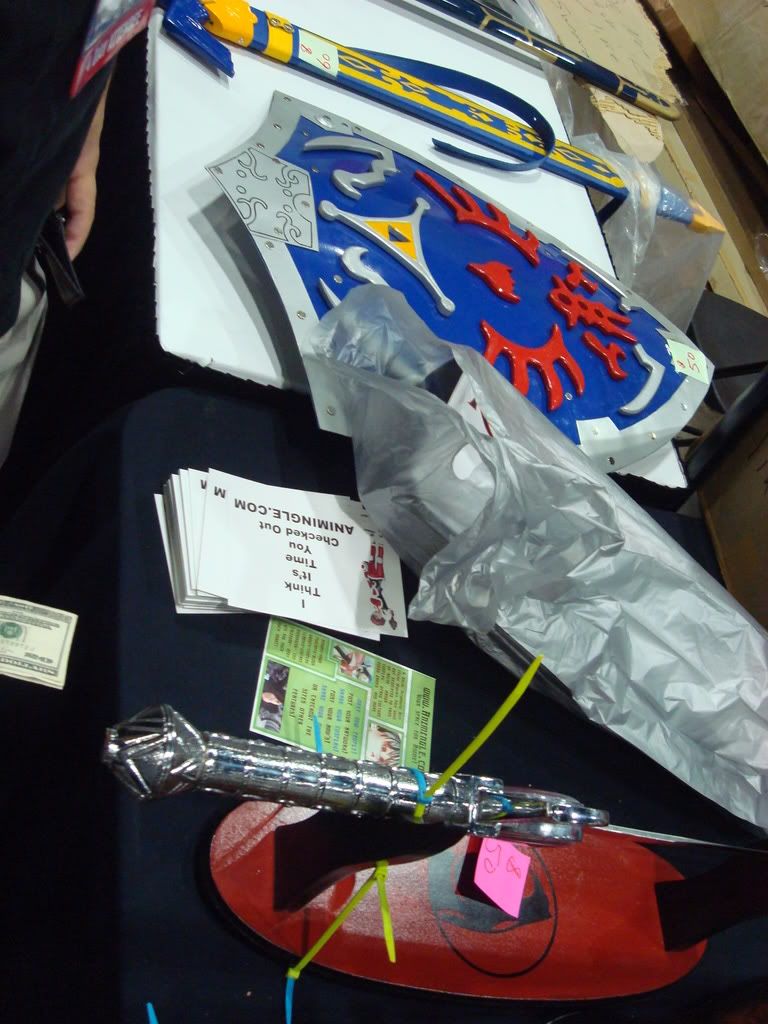 Funimation's booth had a little section closed off with what looked like a little tea room. It had something to do with
Ouran Host Club
. I just thought it looked amusing.
I attended Funimation's panel and had a pretty good view of the power point presentation. Of course the big news was their distribution of the Geneon titles and the Sojitz titles previously held by ADV. I've decided to sum up these events with images of men in red coats brandishing guns. Interestingly, neither of them are Vash the Stampede.
This shot was taken towards the end of day. I sat in a corner of the floor of the gaming room. I quietly rotted away as the sounds of a Para Para game blared in the distance.