I'm looking forward to
H2
the sequel to Rob Zombie's remake of
Halloween
. Judging by the trailer it seems like it's sort of a remake of the original
Halloween 2
, which took place in a hospital. Granted the
H2
trailer takes a truly horrifying turn when Sheri Moon Zombie shows up as a ghost. And I don't mean the good kind of horrifying. I'm even more excited by the fact that Mezco has the license to produce action figures based on the movie. Micheal Myers joins his horror license brethren Freddy, Jason, and Leatherface from their move from McFarlane Toys to NECA to Mezco. Mezco may be the third destination but I think I like their products best.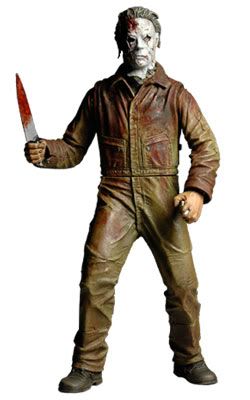 Mezco already has their Micheal Myers figure figure up for preorder
on their website
.
A second Myers figure has been revealed but I don't know the story on it. I like this one better. This is the first distinct new look the character has ever had. He's been a plain jumpsuit kind of guy for far too long.