I'm stretching the definition of "action figure" in this installment of Cancelled Action Figure Cavalcade. With lower than expected sales on the early
Star wars Episode I
items, the toy companies had to scale back on their later offerings. Much of what Hasbro was planning for the action figure line was simply shuffled into the new Power of the Jedi line. Most of the stuff that was canceled outright, which
you can see here
at
Rebelscum
's highly useful photo archive, was stuff like two-packs, and the Trophy Assortment which packaged a Hasbro action figure with a Galoob Micro Machine. Galoob's
Star Wars
themed Micro Machines ran concurrently with the Kenner/Hasbro action figures for much of the 90's. In fact I believe their first
Star Wars
Micro Machines predates the Kenner's launch of the Power of the Force line in 1995. So they might be the ones to get credit for the revival of
Star Wars
toys. Eventually Hasbro bought Galoob which gave them even greater control of the
Star Wars
license. Unfortunately
Episode I
became sort of a last hurrah for the Micro Machines. While Micro Machine-like products would still be made sporadically (currently with the Titanium line) it was never treated as a full distinct line again. I used to have a lot of the
Star Wars
Micro Machines myself but I had already stopped buying them shortly before
Episode I
hit. I was in the midst of phasing out other toys and focusing entirely on action figures. My favorite product was the transforming head playsets. It was a bizzare concept that proved to be qreally cool. For
Episode I
playsets that transformed into the heads of Jar Jar, Darth Maul, and a Battle Droid were made. However there were at least three planned that were never released.
Anakin opens up to reveal the Boonta Eve Classic racing track. It's an obvious choice for the character but the space inside seems a bit too sparse for a proper podrace. Plus the playset only comes with one podracer. That's how they get you. The reflection in Anakin's goggles is a nice detail.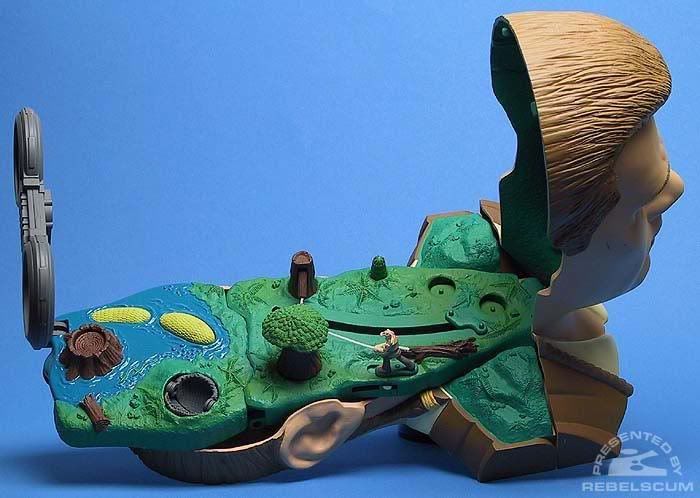 Obi-Wan Kenobi opens up into the Naboo swamp. Not a lot happens during the swamp sequence in the movie. The Jedi run from the Trade Federation's vehicles and meet Jar Jar. That's about it. This playset looks like it would have had a number of gimmicks though I'm can't say what any of them would be. The most interesting of the gimmicks are those goggles(?) that pop up in the background. I wonder what those would have been used for.
This prototype looks less finished than the others with a lot of it left unpainted. Qui-Gon's head opens up to a recreation of the the first scene in the movie. It's got figurines of Obi-Wan, Qui-Gon, and a pair of Battle Droids for them to slice. There's even a little turret that lowers down to blow up the Jedi's ship. Is that legal? No Mr. Gunray, it's not.