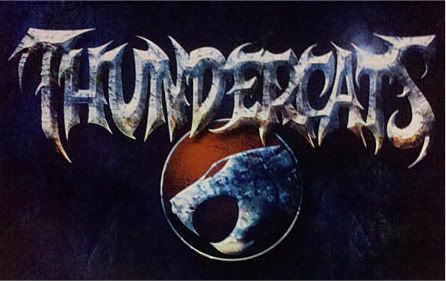 Today Warner Bros. Animation annouced a new
ThunderCats
series will premiere on Cartoon Network in 2011. The animation will be produced by Japanese anime studio Studio4°C. So far only the logo and concept art for Lion-O have been revealed.
You can read the news here
. There's also a story synopsis that mentions "Stones of Power". I think that's a new aspect created for the new series. I've been waiting for this announcement forever. A new
ThunderCats
series has been in some form of development for years. I recall one version had the
ThunderCats
reimagined as teenagers. And members of a rock band. Living on Earth. With Snarf was their manager. So as promising as this new series currently sounds, I'm still a little apprehensive. If they were even considering that teenage rock band version, than I can't put too much faith in the studio. Between now through 2011 we'll be seeing new series debuts for
Transformers
,
G.I. Joe
,
Voltron
,
Teenage Mutant Ninja Turtles
and
Power Rangers
. Retro is alive and kicking. Unlike the rest of those properties however,
ThunderCats
is unique in that the original series hasn't already been rebooted at some point. It's been a relic of the '80s until now. I just hope the characters' jazzy aerobic leotards survive the transition.
Updated 06/03/10:
Now another, arguably more crucial, piece of info has been revealed.
Bandai has the toy license for the new ThunderCats series
. This comes as no surprise as Bandai has been the rumored license holder for several months now. What is a surprise is that Bandai claims they'll be producing items based on the classic
ThunderCats
as well. This is shaping up to be really exciting.