As if I didn't talk about it enough in the last post, here's yet more info about Bandai's
Mighty Morphin Power Rangers
line. So far it's been living up to my expectations, but that's only because I had very low expectations. I mean there's a lot of stuff to like, but the most of it is just random toys with a
Power Ranger
label sometimes literally slapped on.
Amongst those Dragon Shield wearing Rangers at Toy Fair was Bandai's new White Ranger action figure. It's somewhat of an odd choice. Unless they start skipping over large chunks of the series, the TV rebroadcast of Mighty Morphin Power Rangers won't even reach the point in the series when the White Ranger shows up. It will sell well regardless but they could have chosen to make some bad guys instead.
Toy News International has official pictures of several upcoming toys including the upcoming Titanus Carrier Zord Mix and Morph hybrid toy. First of all the new decals are still looking great. More importantly the pics confirm that the Dino Megazord will still be able to ride inside Titanus. Zordon is in his energy tube. All is right with the world.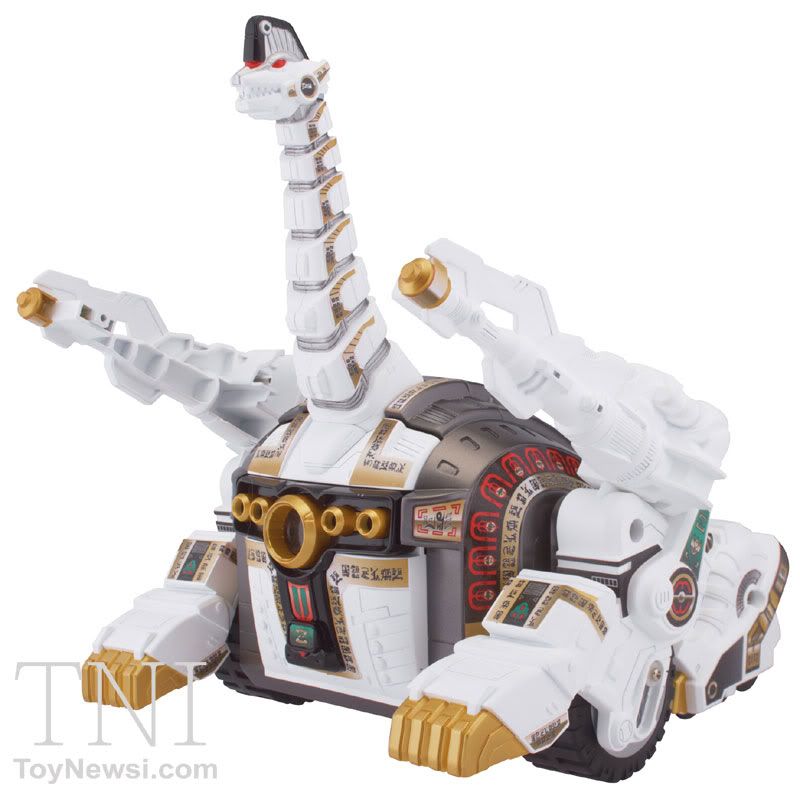 The Toyark has news revealing that the remastered Mighty Morphin will continue through 2011. Next year is also when we'll finally get the Dragonzord. I don't know why Bandai has chosen to release it after Titanus but hey as long as it's coming.
Then in 2012 Bandai will have a toyline based on Shinkenger. I guess that means Disney or someone will be producing a new Power Rangers series based on Shinkenger? That would be fine but I wonder why they wouldn't just skip Shinkenger, seeing as how difficult it would be to adapt for Western audiences. Plus by that point Goseiger will have finished its run in Japan, so they could choose to adapt it instead.