The Avengers: United They Stand
was an animated series that aired on Fox Kids from 1999 to 2000. It wasn't as successful as prior cartoons based on Marvel comic characters. Unlike those earlier series the designs for
The Avengers
were stylized in a vein similar to other animated series for that era. This also meant the accompanying toyline from Toy Biz did not quite match what had come before. As a fan of animated styled toys,
The Avengers
line does appeal to me but I never owned any. I did watch the cartoon but my memories of it were vague until I caught some of the recent airings on Disney XD. It wasn't bad but it is very much a product of the late Nineties. Neither the cartoon or the toyline lasted very long. One of the interesting things about this incarnation of
The Avengers
was that the major heroes, Captain America, Iron Man and Thor were relegated to guest star status. Maybe the show would have been more successful had they played larger roles. Although at that time period they didn't have a lot of mainstream popularity themselves. Despite this Cap got an action figure in the line's first series. Thor and Iron Man were due to receive figures in the third series, but the line ended before they could be released. The Thor figure would have come with what appears to be a "Whack-A-Loki".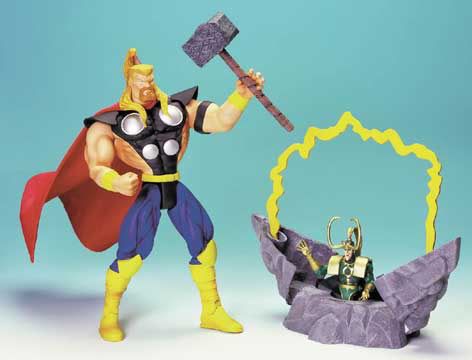 The leader of the Avengers was Hank Pym, who on the show would alternate between his Ant-Man and Giant-Man identities. Hawkeye served as the team's token edgy anti-hero. With the highest profiles of any hero on the series Ant-Man and Hawkeye were the obvious choices get variant figures, but it ended up not happening.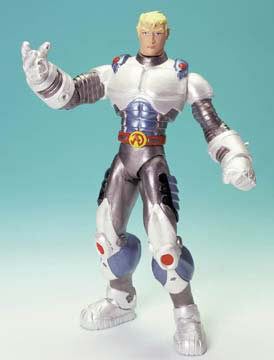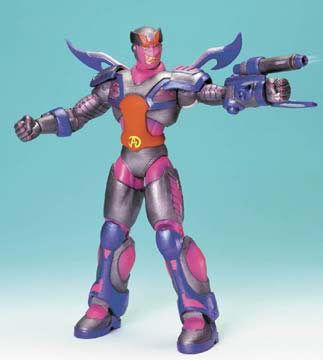 Rounding out the canceled third series of figures were villains Remnant and Ultron. Remnant was one of several creatures that were cobbled from leftover pieces of Ultron's technology. I don't know if he (it?) was created just for the show but his episode is one I caught on Disney XD. The Ultron figure is his second in the line. This one is more like a vehicle with Ultron taking the shape of a tank. Both androids really show off the talent of Toy Biz's sculptors. They would have been fun figures.