I just wrote about Irwin Toy's
DragonBall Z
figures and how Jakks Pacific took over the license from them and continued the line. Another license Jakks picked up from Irwin was fighting anime
Yu Yu Hakusho
. However rather than continue Irwin's seven inch
YYH
line, Jakks started from scratch with a five inch line. Jakks' distribution couldn't have been too great because I never saw any of their figures in person. Not a one. I recall reading that K-Mart carried the line but they were never at any store near where I live. Or if they did, they sold out faster than I could spot them. I do know they were released because I did see them for sale on a few different websites. I never saw the second wave of figures that Jakks showed off at Toy Fair 2004 listed anywhere. The circumstances are a little strange but I think it's safe to say the second wave was canceled.
Yu Yu Hakusho
series 2 is based heavily on the Dark Tournament arc. There's a battered bare-chested Yusuke, Hiei in an outfit I'm having trouble remembering, Tournament participants turned allies Chu and Touya, and big bad Toguro.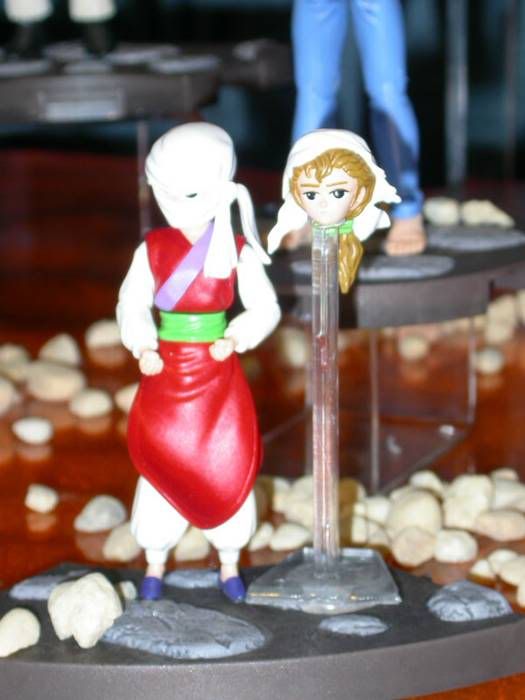 And last but certainly not least is Genkai who would have come with interchangeable disguised and young Genkai heads. It would have been cool if she came with a third old Genkai head. Seeing as how the figure wasn't released anyways, I guess that's crying over spilled milk that came from a cow that was never born. The line also had deluxe figures that came with a display base and I believe they had action features as well. The second series of deluxe
Yu Yu Hakusho
would have had two Kurama figures. There's one in his Dark Tournament outfit which has a neat backdrop showing the demons sitting in the stadium. The other is Yoko Kurama who's got some crazy plant stuff going there.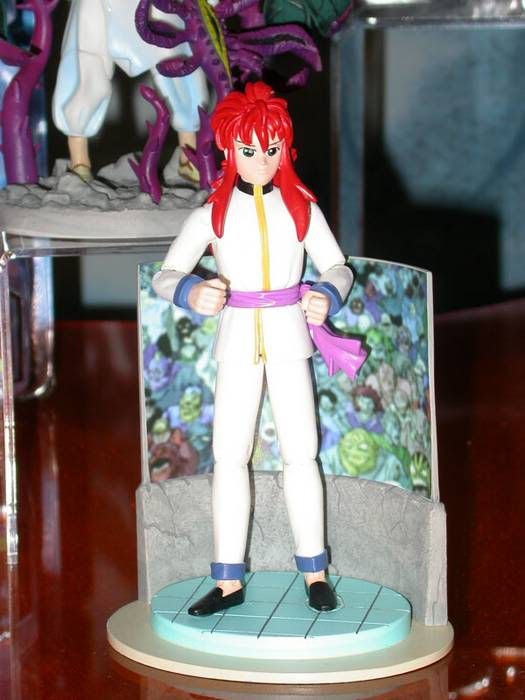 The other deluxe figures are Yusuke in his street clothes and Jin, who looks like he's doing a flying punch. Sorry there aren't closer pictures but here's a group shot. You can also see packaged versions of the deluxe figures that were released.