Both Burger King and McDonalds will have Halloween themed kid's meal toys this year. What's more both are retreads of Halloween giveaways from years' past. Burger King has
The Simpsons
Horror Classic toys, which are akin to their Spooky Light-Ups from 2001 and Creepy Classics from 2002. They are available now, which seems a little early for Halloween toys. Each toy has a light which reveals an image in their respective backdrops.
Club BK
has images of all of the toys. What's interesting about these new toys compared to the Creepy Classics and Spooky Light-Ups is that those were a mix of original designs and ones taken directly from
The Simpsons
' annual Treehouse of Horror episodes. All of the characters in Horror Classics are taken directly from the show. That would make Horror Classics more appealing than the older toys, but there some real head-scratchers being offered.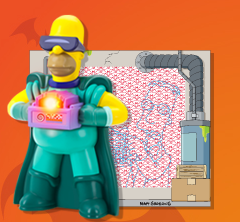 The Homer toy is based on the time traveling Homer who appears briefly at the end of "The Fright to Creep and Scare Harms". That's a pretty obscure choice. They could have done Donut Head Homer, Jack in the Box Homer or Blob Homer instead.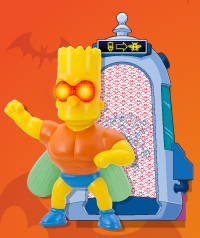 Even stranger is the Fly Bart toy from "Fly vs. Fly". It's based on what Bart imagines he'll turn into instead of what he actually becomes. Wouldn't the actual Fly Bart be a better choice? Or how about Bart as Stretch Dude? Clobber Girl and The Collector are part of the assortment, so why not Stretch Dude?

McDonalds' current promotions are
Power Rangers Samurai
and
iCarly
, but according to
the Happy Meal website
their next giveaway will be Halloween pails. They're the same basic design as
last year's Mr. Potato Head pails
but they have faces this time. That makes them more similar to the classic McBoo pails which makes them better in my book. I still wish they'd ditch the sculpted handles and bring back the plastic lids though.